PV Carport Advantages and Applications
PV Carport Advantages and Applications
For car owners, they would not like to let their cars exposed to the sun and rain when they go outside. Therefore, public carports are needed. Nowadays, with the development of PV power industry, a new type of carport comes out and is applied to many areas.
PV carport is the simplest pattern of BIPV (Building Integrated Photovoltaic). Simple installation and low cost are the features of PV carport. Taking full advantage of the original site, PV carports provide us with green power. Building PV carports in industrial parks, business districts, hospitals and schools can help solve the problem of overheat of car in open parking lot in summer times.
PV carport consists of bracket system, solar array, illuminating system, inverter system, charging system and lighting protection system. There is a combiner box under the carport. The combiner box is used to store the absorbed solar power from solar panels, and then transfers DC power to the inverter to convert DC power to AC power, which can then be transmitted to the grid to complete power generation progress.
[caption id="attachment_6950" align="alignnone" width="600"]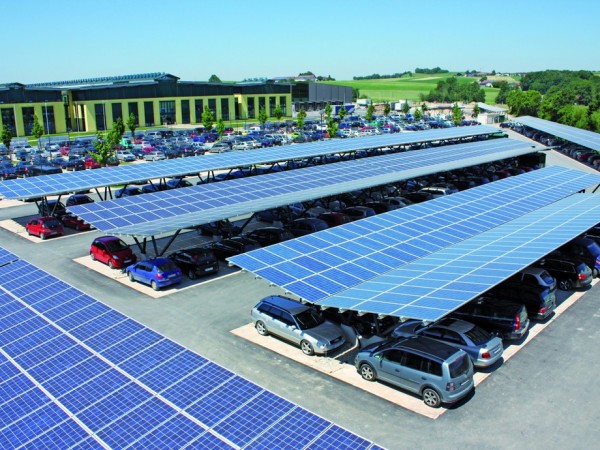 What is PV Carport[/caption]
How a PV Carport Is Constructed
PV carports offer a number of advantages and utilities compared to other conventional photovoltaic installations. The main difference is that it is not necessary to have roofs, therefore, PV Carports can be installed in parking lots or yards.
The structure of the PV Carports is not far from conventional carports since they have common objectives such as the delimitation of the parking space while providing coverage to the vehicle.
But, in the case of PV Carports, these have photovoltaic panels on top of their surface, so that they capture solar energy and transform it into electrical energy. This energy can be used by our client by connecting the installation to the annex building to provide electricity.
Take advantage of surfaces where other types of structures cannot be built, and obtain reductions in energy expenditure and dependence on the power grid.
The Advantages of PV Carports
1、Building the PV carport help release the electricity pressure of city.
PV carport supplies the cars with generated power. The excess electricity can be sold to utility grid and help release the electricity pressure of city.
2、Building the PV carport can not only save the energy but also bring profits.
PV carport has more functions than conventional carport, which can not only shelter the cars from the sun and rain, but also generate electricity to bring us economic profits.
3、Taking full advantage of original site and provides green power.
PV carport combines carport building with PV power generation technology, which fully responds to China's call for environmental protection. It reduces the carbon emissions and protects our planet.
Application Scenarios
Leapmotor Jinhua AI factory PV project was put into use in August, 2020. As the largest scale PV carport in Jinhua city now, the annual energy output is up to nine million and five hundred and sixty thousand kilowatt hour.
It is reported that this PV carport is a "large carport + roof" distributed photovoltaic project, which replaces the top surface with photovoltaic modules. This PV carport can not only generate power, but also shelter the cars from the sun and rain.
The carport covers an area of about 24,000 square meters and provides more than 1,000 standard parking spaces. This project is designed to last for 25 years and can reduce carbon dioxide emissions in total by 194,500 tons, which is equivalent to planting 1.7 million trees.
PV Carport's Development Prospect
With the popularization of electric vehicles, charging problem and parking problem are so urgent to be solved. PV carport can work out these problems and bring economic and social profits. Besides, with the development of AI technology, PV carports will upgrade to intelligent PV carport that integrate intelligent parking, intelligent charging and intelligent calculation in the future.
Back to list