For off-grid application
Can be connected to both PV 、battery and load.Multiple load operating modes to meet diverse needs.

All-in-One
Supports multiple battery types.Highly integarted, helps you save space and wire.

User-Friendly
Easy to install and simple to use.With large LCD screen.

Reliable
With industrial grade design.TvS lighting protection is adopted.

Safety
Complete multi-stage PWM charging management.360 degrees of security from hardware to software.

Intelligent
Supports power-down saving functions.Automatic battery voltage identifcation.
OVERVIEW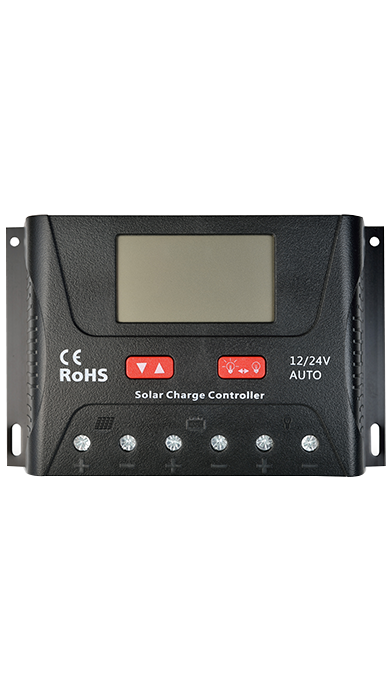 Max.Voltage of Open Circuit
55Vdc
Rated Battery Voltage
12/24Vdc
Battery Voltage Range
9~34Vdc
Rated Charging Current
10A
COMMUNICATION
Bluetooth、TTL
Max.Voltage of Open Circuit
55Vdc
Rated Battery Voltage
12/24Vdc
Battery Voltage Range
9~34Vdc
Rated Charging Current
20A
COMMUNICATION
Bluetooth、TTL
Max.Voltage of Open Circuit
55Vdc
Rated Battery Voltage
12/24Vdc
Battery Voltage Range
9~34Vdc
Rated Charging Current
30A
COMMUNICATION
Bluetooth、TTL
Dimensions
164.0*103.5*47.0mm
Max.Voltage of Open Circuit
55Vdc
Rated Battery Voltage
12/24Vdc
Battery Voltage Range
9~34Vdc
Rated Charging Current
40A
COMMUNICATION
Bluetooth、TTL
Dimensions
164.0*103.5*47.0mm
Max.Voltage of Open Circuit
55Vdc
Rated Battery Voltage
12/24Vdc
Battery Voltage Range
9~34Vdc
Rated Charging Current
50A
COMMUNICATION
Bluetooth、TTL
Dimensions
189.27*127.2*54.0mm
Max.Voltage of Open Circuit
55Vdc
Rated Battery Voltage
12/24Vdc
Battery Voltage Range
9~34Vdc
Rated Charging Current
60A
COMMUNICATION
Bluetooth、TTL
Dimensions
189.27*127.2*54.0mm
Max.Voltage of Open Circuit
110Vdc
Rated Battery Voltage
12/24/36/48Vdc
Battery Voltage Range
9~68Vdc
Rated Charging Current
30A
COMMUNICATION
Bluetooth、TTL
Dimensions
189.27*127.2*54.0mm
Max.Voltage of Open Circuit
110Vdc
Rated Battery Voltage
12/24/36/48Vdc
Battery Voltage Range
9~68Vdc
Rated Charging Current
40A
COMMUNICATION
Bluetooth、TTL
Dimensions
189.27*127.2*54.0mm