Safety
12V/24V system voltage.

Intelligent
LED numeric display and waterproof keys are easy to use.

Communication
Parameter settings of power-down saving functions eliminate the trouble of repeated settings, making operation easy and convenient.

Safety
Up to 5 load working modes facilitate the product's application to different types of road lamps and monitoring devices.

Intelligent
Various kinds of state indicators.

Waterproof
The design of IP67 waterproof level and aluminum shell helps effectively prevent erosion.
OVERVIEW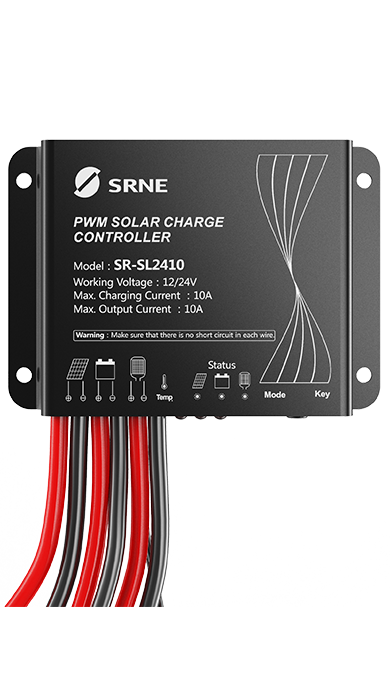 No-load loss
10mA/12V;13mA/24V
Solar energy input voltage
<55V
System voltage
12V/24V Auto
Operating temperature
-35℃ to + 65℃
Dimensions
82x58x20(mm)/10A
No-load loss
10mA/12V;13mA/24V
Solar energy input voltage
<55V
System voltage
12V/24V Auto
Operating temperature
-35℃ to + 65℃
Dimensions
82x58x20(mm)/10A
No-load loss
10mA/12V;13mA/24V
Solar energy input voltage
<55V
System voltage
12V/24V Auto
Operating temperature
-35℃ to + 65℃
Dimensions
82x100x20(mm)/20A
No-load loss
10mA/12V;13mA/24V
Solar energy input voltage
<55V
System voltage
3 and 4 strings: 12 V system7 strings: 24 V system
Operating temperature
-35℃ to + 65℃
Protection degree AC Frequency
IP67
Dimensions
82x100x20(mm)/20A
No-load loss
10mA/12V;13mA/24V
Solar energy input voltage
<55V
System voltage
4 strings: 12 V system8 strings: 24V system
Operating temperature
-35℃ to + 65℃
Dimensions
82x100x20(mm)/20A